23/04/18 | Refugee Crisis | Javi López. Group of the Progressive Alliance of Socialists and Democrats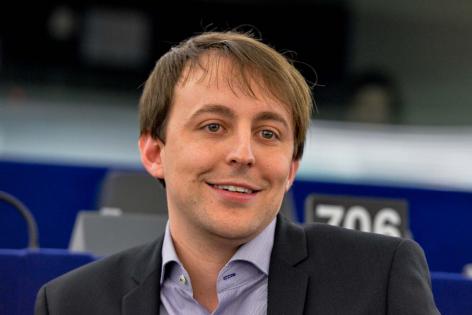 Socialist MEP Javi López said that "European leaders should be ashamed on seeing the images of shipwrecked children on the Turkish coast. It is ridiculous that Europe is incapable of managing the arrival of 300,000 refugees, when Middle East and North Africa have welcomed 7.2 million".
Speaking at the meeting of the S&D Group in the European Parliament, López stated that "the response of the European Union and its members to the refugee crisis is not only reprehensible from the moral and ethical point of wiew but also"collides with a number of international legal obligations".
Shameful action of the
Spanish Government
In a question to the Commission, the Catalan socialist MEP asked the EU executive to "act immediately to ensure that Member States and Spain implement their commitments on asylum in treaties such as the Universal Declaration of Human Rights, the European Convention on Human Rights or the Geneva Convention".
Javi López also described the actions of the Government of Spain and its"bargaining of figures" as something shameful and he criticized that Spain only accepted the relocation of 1,300 refugees from the 4,288 that would have corresponded. The alleged saturation of the capacity of Spain to absorb refugees, one of the arguments put forward by the government of Mariano Rajoy has, according to him, no foundation. In his opinion, "the Government should accept the originally figure proposed by the Commission and abandon their refusal to accept a system of binding quotas, therefore decency towards refugees who arrive on European shores running away from famine and war, for solidarity with the other EU countries".
Last September the EC presented a new proposal for allocating quotas of 120,000 refugees. As he stressed, "it is necessary that all European governments become responsible, especially the Spanish one which had an unfortunate attitude in the month of July". "The images of those days make us relive episodes of our historical memory, when Spanish citizens were running away from war and hunger to seek asylum in France," he added.
Danger of a xenophobic and populist response to the crisis
The Catalan MEP warned of a xenophobic and populist response to the crisis, as the one adopted by the Hungarian Government, and he called on governments to explain clearly and objectively the roots of the problem to its citizens. He also insisted that "it is not about an immigrant crisis but about one of refugees trying to escape from the disaster of war and famine in their home countries, wars over which we have a lot of responsibility".//